Director/ScreenwriterShinji Aoyama
青山真治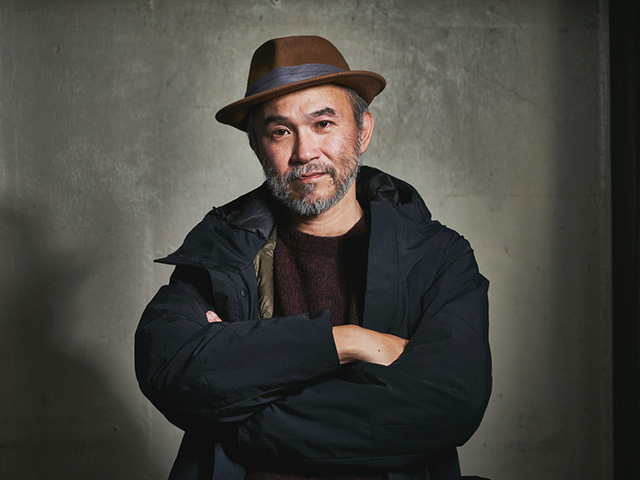 Shinji Aoyama was born in Kitakyushu, Fukuoka Prefecture, Japan, 1964. In 1996, he made his feature-length debut with "Helpless," which was shot on location and set in Fukuoka's Moji Ward. While handling the music and screenplay by himself on a low budget, Aoyama's depictions of violence and superficial human relationships received high praise, and the film was selected for screening at many international film festivals venues like Toronto, Vienna, and Torino.
He was very active afterwards, coming out with such films as "Two Punks" ('96), "WiLd LIFe" ('97), "An Obsession" ('97), "Shady Grove" ('99), and "EM/Embalming" ('99). Then, in 2000, his "Eureka" was selected for competition at the 53rd Cannes Film Festival, where it had the remarkable distinction of winning the International Film Critics Awards and Ecumenical Jury Prize. It also received L'Age d'Or Award from the Royal Belgian Film Archive, and so had begun to receive recognition worldwide.
After that, he amassed a body work that included "To the Backstreet: The Films Kenji Nakagami Left Out" ('00), a documentary about writer Kenji Nakagami; "Desert Moon" ('01), a film that was invited to compete at the Cannes Film Festival for two consecutive years; " Mike Yokohama: A Forest with No Name" ('02), a selection by the Berlin International Film Festival; and "Lakeside Murder Case" ('04), Aoyama's bold attempt at adapting a Keigo Higashino mystery into film.
In 2005, his "Eli, Eli, Lema Sabachthani?" was invited to be screened for the "Un Certain Regard" category at Cannes Film Festival; then his "Crickets" in 2006 and "Sad Vacation" in 2007 were screened for the Orizzonti Award for Best Film category at the Venice International Film Festival for two consecutive years. Aoyama has become the pride of Japan and a world-renowned filmmaker.
While taking on his own directorial and writing duties in film, Aoyama became an author for the first time and wrote his own novelization of "Eureka" in 2001, which earned him such accolades as the 14th Mishima Yukio Prize. In 2005, his "Hotel Chronicles" was nominated for the 27th Noma Literary New Face Prize.
With 2011's "Tokyo Park," he adapted Yukiya Shoji's original source material with a warm, gentle perspective, showing us new frontiers. It was this work that earned him the Golden Leopard Special Jury Prize at the 64th Locarno Film Festival.
Later that same year, his stage directorial debut of "Glengarry Glen Ross" (featuring Kanji Ishimaru and Bando Mitsugoro X, among others) had its premiere at the Galaxy Theatre. Then, his "Oyasumi, Kaasan" ["'Night, Mother"] (featuring Kayoko Shiraishi and Tomoko Nakajima) debuted at Ikebukuro's Owlspot Theatre. From then on, Aoyama has risen to the challenges of the stage with many more theatrical productions.
In 2013, his "Backwater" won the Boccalino Award at the 66th Locarno Film Festival, and awards for screenwriting and cinematography in the 68th Mainichi Film Awards. In 2015, he stepped up to the challenge of directing television with "Shokuzai no Sonata" ["Atonement Sonata"], a serialized drama for WOWOW which has received rave reviews.
In 2018, Aoyama stopped teaching at university and has once again returned to the movie industry. His latest work is "Kingyo Hime" ["Goldfish Princess"], a NHKBS Premium drama. (Air date: March, 2020)