Director/ScreenwriterIzumi Takahashi
髙橋 泉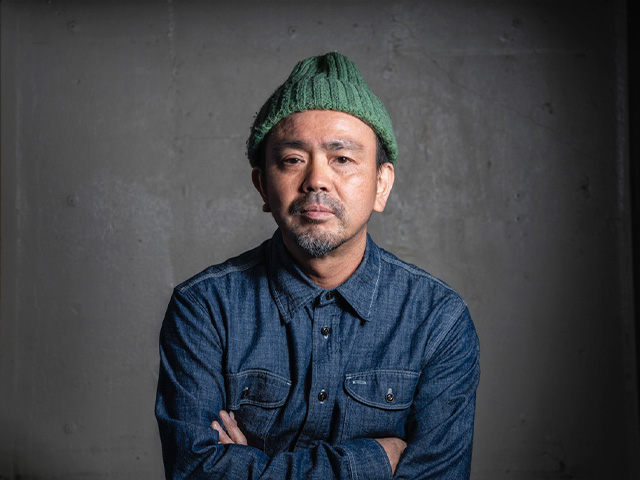 Filmmaker/screenwriter, born November 1st, 1973, in Saitama Prefecture, Japan.
In 2001, he formed the Gunjo-iro [Ultramarine] Film Unit with actor/director Hiromasa Hirosue, and they went on to create over 20 independent film productions together, in which Takahashi's excellent character depictions were widely lauded both nationally and abroad. At that time, he was discovered by director Isshin Inudo at C&I Entertainment (formerly IMJ Entertainment) and began his involvement with commercially-produced films.
He is currently a screenwriter and director affiliated with Kazumo.
[Primary Works]
Gunjo-iro Unit Productions
"The Soup, One Morning" (2003) Screenwriter/Director
46th Directors Guild of Japan New Directors Award

26th PIA Film Festival Grand Prize

23rd Vancouver International Film Festival Dragons and Tigers Award for Young Cinema
(Grand Prize in the New Asian Directors Category)

29th Hong Kong International Film Festival Asian DV Competition Category Grand Prize (Golden DV Award)

2005 Infinity -- Alba Film Festival (Italy) Competition Category Grand Prize
"Sayonara, Sayo-nara" (2003) Screenplay (Director: Hiromasa Hirosue)
26th PIA Film Festival Grand Prize Runner-up
"The Lost Hum" (2005) Screenplay (Director: Hiromasa Hirosue)
2006 International Film Festival Rotterdam NETPAC Award
Theatrical Release: "Fourteen" (2006) Screenplay (Director: Hiromasa Hirosue)
16th PFF Scholarship

2007 International Film Festival Rotterdam NETPAC Award
"What the Heart Craves" (2007) Screenwriter/Director
32nd Hong Kong International Film Festival Asian Digital Competition Category First Prize (Golden Digital Award)

58th Berlin International Film Festival Forum Category Selection

Tokyo FILMeX Competition Category Selection
"I Am Not the World You Want to Change" (2012) Screenwriter/Director
13th Tokyo FILMeX Student Jury Prize
"Dari Marusan" (2014) Screenwriter/Director
15th Tokyo FILMeX Competition Category Selection

65th Berlin International Film Festival Forum Category Selection

39th Hong Kong International Film Festival Platform Category Selection
Commercially-produced Films
Theatrical Film: "Vanished" (2006) Screenplay Co-writer (w/ Naoto Kumazawa & Yukiko Manabe)
Drama Adapted from a "Phone Novel" for Maho TV : "Re:Namida-ame" ["Re:Tears of Rain"] (2008) Screenplay (Director: Chihiro Ikeda)
Start of Broadcast: October (4th-ranked Video; 3rd-ranked Broadcast on Maho TV )
Drama Adapted from a "Phone Novel" for Maho TV: "Norowareta Gakko" ["Cursed School"] (2008) Screenplay (Directors: Kazuya Shiraishi & Yohei Tani)
Theatrical Film: "Lost Paradise in Tokyo" (2010) Screenplay (Director: Kazuya Shiraishi)
2009 Skip City International D-Cinema Festival Skip City Award

International Film Festival Rotterdam Official Selection

Busan International Film Festival Official Selection

Dubai International Film Festival Official Selection
Theatrical Film: "Solanin" (2010) Screenplay (Director: Takahiro Miki) (Asmik Ace Premiere)
Drama Adapted from a "Phone Novel" for Maho TV: "Maria age 18-20" (2010) Screenwriter/Director (Asmik Ace)
TV Drama: "Beat" (2010) Screenplay (Director: Eiji Okuda) (WOWOW)
Theatrical Film: "Runway Beat" (2011) Screenplay (Director: Kentaro Otani) (Shochiku Premiere)
Serial Drama: "The Book of Human Insects"] (2011) Screenwriter/Director (w/Kazuya Shiraishi) (WOWOW)
Theatrical Film: "Go, Masao!" (2012) Screenplay (Director: Kentaro Otani) (Shochiku Premiere)
Theatrical Film: "Crying 100 Times: Every Raindrop Falls" (2013) Screenplay (Director: Ryuichi Hiroki) (Showgate Premiere)
Theatrical Film: "The Devil's Path" (2013) Screenplay (Director: Kazuya Shiraishi) (Nikkatsu Premiere)
37th Japan Academy Film Prize Best Screenplay
Serial Drama: "Kanata no Ko" ["The Children Beyond"] (2013) Screenplay Director: Tatsushi Omori) (WOWOW)
Serial Drama: "Onna ha Sore wo Yurusanai" ["Woman Won't Allow It"] (2014) Screenplay (Director: Kengo Takimoto) (TBS)
Serial Drama: "Yume wo Ataeru" ["To Give a Dream"] (2015) Screenplay (Director: Isshin Inudo) (WOWOW)
Serial Drama: "Fujiko" (2015) Screenplay (Director: Shosuke Murakami) (hulu)
32nd ATP Awards Special Prize for Non-broadcast Media
Theatrical Film: "Zutaboro" (2015) Screenplay (Director: Hajime Hashimoto) (Toei Premiere)
Serial Drama: "Blossoms Bloom" (2016) Screenplay (Director: Chihiro Ikeda) (NOTTV)
Theatrical Film: "Zebra" (2016) Screenplay (Director: Hajime Hashimoto) (Toei Premiere)
Theatrical Film: "The Top Secret: Murder in Mind" (2016) Screenplay (Director: Keishi Otomo) (Shochiku Premiere)
Theatrical Film: "Museum" (2016) Screenplay (Director: Keishi Otomo) (Warner Bros. Premiere)
Serial Drama: "Princess Maison" (2016) Screenplay (Director: Chihiro Ikeda) (NHK-BS)
33rd ATP Awards Drama Category Excellence Award
Serial Drama: "Wanitokagekizu" ["Stomiiformes"] (2017) Screenplay Director: Toshio Tsuboi) (TBS)
Theatrical Film: "Tori Girl!" (2017) Screenplay (Director: Tsutomu Hanabusa) (Showgate Premiere)
Theatrical Film: "Sunny" (2018) Screenplay (Director: Kazuya Shiraishi) (Nikkatsu Premiere)
Theatrical Film: "Kids on the Slope" (2018) Screenplay (Director: Takahiro Miki) (Asmik Ace Premiere)
Theatrical Film: "Gokko" (2018) Screenplay (Director: Naoto Kumazawa) (Pal Entertainments Production Premiere)
Theatrical Film: "Startup Girls" (2019) Screenplay (Director: Chihiro Ikeda) (Presidio Premiere)
Theatrical Film: "One Night" (2019) Screenplay (Director: Kazuya Shiraishi) (Nikkatsu Premiere)
15th Osaka Cinema Festival Screenplay Award
Theatrical Film: "Love and Murder of Sheep and Wolf" (2019) Screenplay (Director: Kayoko Asakura) (Presidio Premiere)
Serial Drama: "Boku ha Doko Kara" ["Where Do I Come From?"] (2019) Screenplay (Director: Yusuke Taki) (TV Tokyo)
Special Drama: "Fukyowaon" ["Discord"] (2020) Screenplay (Director: Kentaro Otani) (TV Asahi)
Serial Drama: "Chusan, Fuyu, Tobochu" ["Runaway in the Winter with Middle School Boy "] (2020) Screenplay/Director (dTV Distribution)
Theatrical Film: "Comes Morning" (2020) Screenplay Co-written (w/Director: Naomi Kawase) (Kino Films [Scheduled Premiere])